Market Update for the Week Ahead: 06/27/2021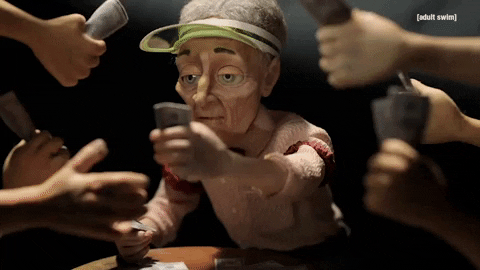 IS IT MONDAY 9:30AM YET???...
OPEN THE CASINO! LET'S Gooooooooooooo!
---
Headed back to the office now, but want to follow the flows and the action? Get our new iOS Mobile App!
---
What's Happening Heading into Monday?
S&P 500: By 12PM last Monday, the low was already in for the week and all the quad-witch OPEX impact was cleared off the board by the end of the session. We were back in the green fast! BTFD team is undefeated in 2021 and won yet again. GEX is light positive and will keep stocks elevated unless something changes this week. With the holiday approaching and quarter end/mid-point of 2021 in sight...watch out for window washing man to make an appearance (more on that below)!
Volatility: Options in VIX are actually bullish with a 0.67 p/c as of Friday. That doesn't mean anything yet as it's still mixed, but watch this during the course of the week to see if there's any volatility perking up as the quarter closes. Moving into the 2nd half of the year "could" usher in some new positioning with funds and banks, so keep a watch for this under the surface every day this week.
TLT (Bonds): Bonds hit resistance and were smacked right down from the Bull-Bear pivot last week. Momentum and Flows are turning down as well. This week and next week are pretty important for any renewed bullish trend. Otherwise, should bonds lose support, then it's back to the beat down that we've seen so far all year.
What about the Options Market last week?
Last 7 Days when we are looking at Total Premium?
Nature is healing. $TSLA and $AMZN are back on top this week with the rest of the $FAANGs in the top 15. All is well.
Last 7 Days when we're looking at Total Volume?
$WISH stands out along with $PLTR and $NIO. $AMD also sneaking up into the top 15 in total options volume from last week. Look for excess action in those names this week.
How did the options market finish the week last week?
As mentioned above, nature is healing. Single stock names are On Fire again with P/C at 0.41. Indexes are back to neutral as are ETFs. $SPCE was huge Friday but could run into resistance early this week. But overall = BULLISH.
The most Unusual Call Options Activity at the close on Friday?
$NKE was the clear On Fire Call name on Friday. Single names dominated all week last week and look to continue this trend heading into this week as well. Watch the names here daily to see which ones are breaking out on the day so you can ride the wave.
The most Unusual Put Activity at the close on Friday?
$SPCE was absurd on Friday with a major squeeze. Will it continue into this week? Maybe...as you can see below, a lot of these puts were 06/25 calendar dates so they were closed. Was that it on Friday, and it was a raging epic squeeze? Or will there be more pain this week in $SPCE?
Highest Energy Sweeps at the close on Friday? Highest Energy Sweeps were really bearish on Friday, but $LVS snuck in there as well as some others that were really bullish. Best to take these ticker by ticker.
Highest Energy Blocks at the close on Friday? This is looking pretty neutral and the takeaway here is that the options market wasn't as active late last week as it was mid-week.
How were the Degenerate Prop Traders positioning with Leverage at the close on Friday? They're trading long banks, bios, and short precious metals and small caps. This crew is nuts.
What's in store for the week ahead?
It is quarter end/mid-point for the year and we expect to see the window washing man. If you have never heard of him, he tends to appear at most quarter ends to wash the windows of those e-statements for clients. Unless there's some massive volatility early in the week that forces market makers and institutional traders to make major changes to their positions, then expect the window washing man to be in control through the end of the week until after the 4th of July holiday weekend.
Based on what we're seeing from last week, all the best and most profitable action will continue to be in single stock names and be explosive name-to-name. If you're looking for action, jump into our Discovery Scans daily to see where the action is brewing name-to-name and calendar your plays based on where the trades from the big players are taking place.
And be careful fading this guy...he's super grouchy and dead set on keeping those statements streak-free.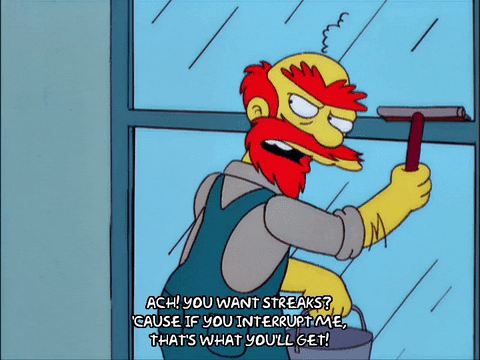 ---
We're giving away $1,500 cash this week in 3 interactive games.
We don't believe that you should have to risk it all to win it all. There's a lot more to that phrase coming very soon, but for now...let's just say we like to have fun. It's also the middle of the year and it's been an exciting year here at vig and an exciting year here in the markets.
Since the markets can get really stressful, we're going to run some fun contests that are stress-free and require ZERO charting, options, or stock market analysis skills...AND you can win some real loot! You will, however, need to have a sense of humor, have created an account on our web app and/or downloaded our new mobile app, and have some decent social media sleuthing skills.
Tuesday's Game = $250 cash prize
Wednesday's Game = $500 cash prize
Thursday's Grand Finale Game = $750 cash prize
If you don't follow us on Twitter already, then click here to follow us. Stay tuned to our Twitter account tomorrow and over the next few days for more instructions. We hope you have fun and take home the $! GOOD LUCK TO ALL!
---
Top Twitter social shares from vigtec users that caught our attention this last week:
(click on any image to link directly to the Twitter profiles)
@abovetreeline7 is nice enough to share his work on weekly options and general options flow analysis. Give him a follow!
@locustfunds was all over the $SPY changes post close on Friday in after hours. Let's see what happens this week!
@swaggystocks here with the great post about $NKE that happened to be scorching on Friday. SwaggyStocks also launched their new "alt data" Swaggy Terminal which we think is fantastic! Check it out the beta version at their website!
@realpristinecap here with the $CVNA analysis. Andrew does great technical and stock analysis work!
@alphainvestors had a great write up on Midcap stocks that are poised to breakout. Check the article out!
@hereforthefin caught this $CLNE options activity on Friday and has been tracking the setup nicely! Have to see if it pops!
---
Our Favorite Tweet of the Week
We obviously enjoy a good meme here or there...this one was a real crowd favorite this past week as our social crew had us spit our coffee out on this one last Tuesday. Check it out!
---
Software Release Updates & News
Our new build of the Apple iOS mobile app was updated again this weekend with more new features. Stayed tuned for more updates each week on this and the web app.
If you already have the app downloaded, just update it to get the new build. If not, click the link here to download the app today:
---
New Software Features "In the Works" (Coming Very Soon)
Our team is always working on new builds and features. Currently in the works for release soon during the summer:
- Android App
- Radar Stock Screener (including customize your own screens, build data sets, exports, and more)
- Real-time News, Analyst Ratings, and Economic Calendars
- Cross-Asset Class Power Signal Alerts
- and MORE!